TIPS ON PREPARING AND MARKETING YOUR KELOWNA WATERFRONT ESTATE FOR SALE THIS SPRING
Tips On Preparing And Marketing Your Kelowna Waterfront Estate For Sale This Spring
The spring real estate selling season is upon us in Kelowna as we begin to see more sunshine and less snow clouds in the sky. With the ushering in of spring we tend to see a surge, not only in home buyers, but also for those looking to make moves by listing their homes, estates, waterfront properties and acreages for sale on the MLS. While most homes sell quickly enough with a few nice photos and the general MLS exposure; selling and marketing a property valued in the millions requires a different style of marketing plan that a weekend open house just simply cannot satisfy. I have included a few things that help to not only prepare your million dollar property for sale, but to also prepare yourself for as your home hits Kelowna's spring real estate market.
Know your property and it's best angle.
Just like everyone has a good side that they prefer to be photographed on, every property also has good features which should be emphasized. Work with your Kelowna real estate agent to identify what features should be enhanced for a quick sale then feature and market those points exclusively. For example, if you have a property for sale worth millions of dollars because of the land size or potential use, but the home is essentially a tear down, then you might want to consider not showing photos of the home at all. Marketing this style of development property to attract land developers, or farmers would be much more beneficial than trying to find the rare family looking to take on a million dollar renovation project. Focus on what the property has to offer and who the target demographic is and then develop a plan with your real estate agent to market around these points. Calling attention to where the value lies will help expedite your property sale. It's much easier to sell the good points and appeal to a specific buyer, then it is to explain away the bad to someone who just isn't in the market for that style of property.
Sparkle and shine.
If you don't have a million dollar tear down, but you have an older lakeshore home or waterfront estate with an amazing location and view, then it will be well worth your time and money to complete the following chores before your home hits the MLS.
---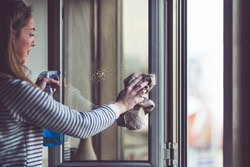 Windows – They are almost always overlooked, but when you are selling something that hinges on the view, they should really make the top of your to-do list. Make sure your windows are clear from debris inside and out so that potential buyers can see that million dollar lake view. You will also want to ensure that your blinds are dust free and that you launder any drapery ahead of your first showing. Remove any furniture or items that block the view and keep the blinds open when the home is shown.
---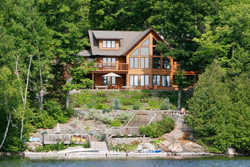 Property – If your home is older, but is sitting on valuable Okanagan beachfront then chances are high that your buyer is looking at the land potential and will eventually renovate the home. Making sure the property is clean from garbage, lake debris, yard waste etc. will ensure that a potential buyer will be able to envision what they are working with. Take a walk around the property and remove any eye sores.
---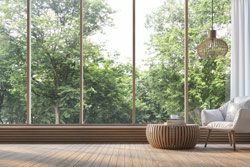 Interior – Deep cleaning and decluttering is a must! Hire a professional, move what you can into storage and make sure the inside is as sparkly as the lake outside. Hiring a home stager is also a great way to fetch more attention, better marketing photos and more money for your lakeside listing.
---
Off to the races!
Once all of the clean up and strategy is prepared we are ready to execute our real estate marketing plan for high worth homes in Kelowna. Some of the items we have been known to organize in the past include event marketing, where we host a group of waterfront real estate brokers or agents in your home, so that they can see if the property is a fit for their potential clients. Networking with the right agents and brokers is a great way to spread the word and generate interest.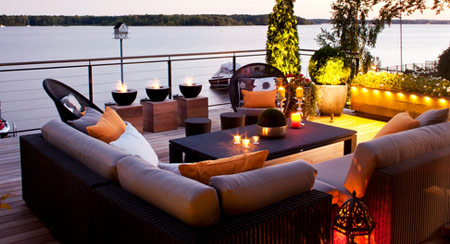 We may also choose to use detailed video and drone photography, along with a stand alone feature property website to generate even more buzz and to give other agents curated marketing they can pass along to their potential clients. Customers and their agents will judge the presentation of a high worth home, almost the same as they will judge the home. If the marketing does not match up with the product then the chances of finding a buyer is slim. That's why you will want to work with an agent like myself, who not only has a contact list of potential buyers, but also has a great reputation among other agents and brokers for networking potential. It is often this relationship that gets the deal done on a high worth Kelowna home for sale.
If you've been considering listing your million dollar Kelowna home for sale this spring, then I encourage you to reach out to me, so we can discuss your goals. I would be happy to do a site visit, a home evaluation and present you with a marketing plan that will get your home listed and sold in a manner that suits your lifestyle.
Content Marketing by 

 EstateVue